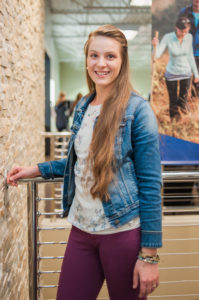 Education/Certifications
Bachelor of Science in Food and Nutrition with a Concentration in Dietetics from Framingham
State University
 Registered Dietitian and MA Licensed Nutritionist (RDN, LDN)
 200 Hour Certified Yoga Teacher with Yoga Alliance (CYN)
 American Heart Association CPR/AED Certified
 Serv Safe Certified
Allergy Awareness Certified
Credentialed School Nutrition Specialist (SNS)
Genavix Healthy Care 90- Day Commit to Get Fit Program Leader
American Council on Exercise Health Coach Certification
Fitness Philosophies/Experience/Specialties
Ali loves food and has always been interested in where it comes from, how to cook it, what it does for
our bodies and how to share that with others. Her 'whole person' approach to wellness is formed from
studying and practicing culinary arts, nutrition counseling and yoga. Food is necessary for fueling our
bodies, but it is also responsible for nourishing us in so many other ways as our culture, hobbies,
celebrations and comfort. Having worked in healthcare, schools and communities, Ali enjoys working
closely with clients to incorporate nutrition into their health and wellness goals in a meaningful way.
Eating is something we must do every day but eating healthy does not have to be a chore. Every body is
different and the nutrition world is always evolving- it can be overwhelming- but Ali's personalized
approach addresses medical history, food habits, preferences, mindfulness and goals with a contagious
amount of energy and passion.
Currently accepting plans from Blue Cross Blue Shield, Tufts Health Plan, Harvard Pilgrim Health Care, CIGNA and others for Nutrition Counseling.
Contact Ali directly at 508-746-7448 ext 116 or amiller@plymouthfitness.com.