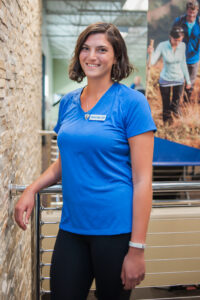 Certification/Education:
CPR certified
Licensed Massage Therapist – Commonwealth of Massachusetts
Certified Massage Therapist – Spa Tech
BS degree in Exercise Science at Bridgewater State University
Experience/Specialties:
Christina is an experienced Personal Trainer/Massage Therapist who believes that most people go through every day with some sort of discomfort or chronic pain. She feels that through the work of regular exercise and massage therapy our muscles can be brought back to an optimal state of functioning in which we feel no pain. Along with reducing pain, exercise & massage therapy is very important in the prevention of injuries. Christina enjoys the health journey that her profession allows her to take with her clients. Christina is a volleyball and basketball athlete.
Fitness Philosophy:
"Watching my clients progressively feel better both physically and mentally, thus allowing them to do the activities that bring them joy, brings me joy also."
Schedule Massage Therapy
Schedule Advanced Therapeutic Stretching
Schedule Personal Training Appointments