Stuck in your weight loss? Confused about eating? Exercising with little results?
If you've tried and failed to lose weight and keep it off, our Wellness+ membership could change your life. This multi-disciplinary program is unlike any traditional diet or workout plan because it combines assessment, nutrition education, exercise and an action plan.  Here's the results our participants are experiencing:
WELLNESS+ AND RD NOW AVAILABLE!
Wellness+ members can now add an additional support session from our Registered Dietitian to their experience.  This appointment is fully covered by most health insurance providers ($180 value) & 95% of people have $0 co-pays. 
Our Registered Dietitian will further personalize your nutrition planning to help participants fully benefit from all that the Wellness+ membership has to offer.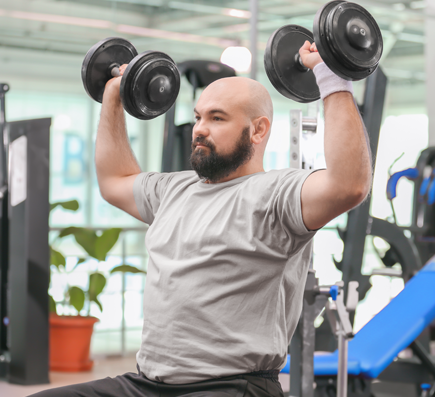 What they say about Wellness+...
Courtney B. - Are you ready to change your life? Through fitness and nutrition educationparticipants learn how to customize their wellness plans ... with the guidance of a nationally certified wellness coach. Participants track and measure their results using an easy-to-follow 10 week program to realize the benefits of a sustained healthy lifestyle. "5 Stars!  Since completing the R3 program, I've noticed a remarkable difference in my energy levels. I don't even need a cup of coffee in the morning anymore. That being said, this program requires discipline. Meeting once a week with the group for accountability really helps. Also, by trying a new workout each week with certified professionals, I discovered a love for lifting weights! This program was a great way to build healthier habits for life and a lot of fun at the gym. Not to brag, but I lost 4 inches on my waist - this program really works! If you're considering the R3 program, just sign up and start enjoying the process. You'll thank me later!"
Andy, Age 41 - Ever since COVID arrived and the gym first shut down I had been struggling with my weight. When the gym opened again I returned ... my nutrition, drive and results were not showing up. I was just spinning my tires endlessly.  When I saw R3 was available I was interested but hesitant at first. I thought "No, I can do this myself". A few months later and here I was in the same spot again.  I finally decided it was time and gave R3 a shot, and I am so glad I did as it was life changing for me! The results were AMAZING! The knowledge, guidance and care the coaching staff provided helped me get back on track finally. Not only have I gained new friends from the experience but I also gained my gym drive again. As a result of R3 I am still seeing better results from my hard work that I had not seen in years!  If you are struggling with seeing results, don't hesitate like I did. This was honestly one of the best decisions I have made in my life!"
Michelle B - "I loved the R3 Program.  I found the classroom very educational and informative.  The group classes were very fun and it was ... interesting to learn something new.  It was nice to be in a group setting because you give each other confidence and meet new friends.  The best part is.. I lost almost ten pounds.  I would highly recommend it !"
Stephanie & Linda - "We joined the R3 Program to jump start our wellness journey, and left with so much more! Lisa and Marleen are great to work with both in a group setting and ... individually with any questions and helping to modify exercises. Each week the classes were different and we were able to take group classes (Aqua Fit) that are only being offered when we're both at work. Joining together we were able to cheer on each other while making sure each of us were doing the best we could. The greatest 10 weeks of mother-daughter date nights and together lost 39 lbs!
Date

Time

STATUS

January 11 - February 29

Thursdays 5:30pm - 7:30

Open
Your health insurance may partially reimburse you for fitness & wellness. Be sure to check with your health insurance provider. We frequently find participants getting rebates from these companies and more:
Want to learn more about our R3 program before registering?

Simply submit this form and our R3 Wellness Program Director will circle back to answer your questions.