The pool is open when the club is open, weekdays 5am-9pm (Friday until 8pm) & weekends 6am-4pm, with the below exceptions. 

Be aware that between 2-4 lanes will be open as Private Swimming Lessons may be using 1 or 2 lanes.
Pool closed to other activity during these programs

(updated July 10, 2021)
Monday 10am-11am AquaFit & 4:45pm-5:45pm Group Swimming Lessons
Tuesday 9:15am-11:15am Group Swimming Lessons & 3:45pm-6:15pm Swim Team
Wednesday 8:45am-10:15am Group Swimming Lessons, 12pm-1pm H2O Power & 4pm-6:30pm Group Swimming Lessons
Thursday 3:30pm-6:15pm Group Swimming Lessons
Friday 10am-11am AquaFit
Saturday 7:45am-11:45pm Group Swimming Lessons
Sunday 9:30am-12pm Group Swimming Lessons
This schedule is changing often as we bring back AquaFit classes & Swimming Lessons.
Please check this schedule prior to each visit.  Thank you!
Mandatory Protocols
Members must take a cleansing shower before entering the pool.
Only 1 swimmer/family per lane.
Only 1 person/family at a time in the pool shower room.
Members must register for AquaFit classes up to 1 week in advance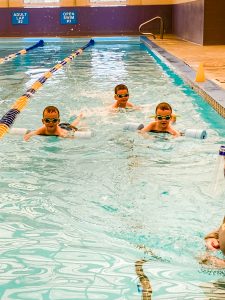 At Plymouth Fitness, we offer a variety of water fitness opportunities. Not a huge fan of swimming laps? No problem! Plymouth Fitness has AquaFit classes that will make you feel less like you are working out and more like you are at a pool party!  All in the pool, all super effective and results driven, all fun!
Learning to swim can be a real challenge for children and adults alike. That is the specific reason that Plymouth Fitness partners with the American Red Cross to offer group, semi-private and private swimming lessons for children and adults. Looking for one on one swimming attention? Private Swim at Plymouth Fitness offers individual swimming lessons to help anyone overcome their fear of water, improve their stroke or even train for a triathlon.
Junior Olympic pool measuring 25 yards long with a depth of 4 1/2  feet. This pool is kept at 82 degrees and is sanitized using a state-of-the art salt system to produce a more natural, less irritating chlorine. Activities in the pool include Adult Lap, Open Swim, Family Swim, Aqua Exercise Classes, Red Cross Swim Lessons and Non-competitive Swim Team. Handicap lift available.
How to Register for Group Swim Lessons Online:
Click on MY LOGIN (top right)
If this is your first time using our online service, choose "New to Our Site" enter first and last name of the swimmer.  In most cases this will not be your name if registering for a child.  Use the swimmer's name.  This could be your child, grandchild, niece, nephew, etc.
Look for the swimmer's name and click on it, if you don't see the swimmer's name then click on "Create a New Account" and enter information for all fields listed.  Enter only the information for the swimmer.
If the swimmer already has an account, please verify the information in all fields.
Create Password:  Password needs to be at least 8 characters including one number (example: johndoe1).
Preview information (option to edit).
Once logged in then click on "GROUP SWIM LESSONS" (top of page)
Find appropriate level and class time (be aware of dates, newer sessions scroll to bottom)
When you find your class click on "Sign up Now".
Choose Service:  Group Swim Lessons Guest or Member? The swimmer must be a member to receive member pricing.
Review purchase:  Click "Check Out".
Enter billing information (option to store billing information for future purchases).
Click "place order".
If registering more than one swimmer, repeat all steps for each.