At Plymouth Fitness, we offer a variety of water fitness opportunities. 
Our pool is ideal for lap swimming, walking in the water, water fitness & swimming lessons. Plymouth Fitness offers AquaFit & H2O Power classes that will make you feel less like you are working out and more like you are at a pool party! All in the pool, all super effective & results driven, and all fun!
Free Swim – All lanes available for lap or open use.  LAP LANE RESERVATIONS AVAILABLE!
Group Swim – Some lanes available for lap or open use during swimming lessons.  LAP LANE RESERVATIONS AVAILABLE!
AquaFit – Entire pool used for this adult exercise class.  RESERVATIONS REQUIRED!
H20 Pump – Entire pool used for this adult exercise class.  RESERVATIONS REQUIRED!
Group Swim Lessons – Entire pool used for Group Swimming lessons only.
Family Swim – Entire pool available for adults with children.  Reservations not needed.
Lap Lane & Class Reservations can be made up to 7 days in advance in-person or by calling Member Services,  at plymouthfitness.com or with the MINDBODY app.
Members are allowed to use the pool during club hours except when reserved for AquaFit, H20 Power, Swim Team or Group Swim Lessons.
RESERVATONS REQUIRED for AquaFit and H20 Power.
LAP LANE RESERVATIONS ARE AVAILABLE during Free Swim & Group Swim.  Members are allowed up to two 30-minute reservations daily. 
Members who "no-show" for reservations will not be allowed to make future reservations.
During Group Swim, lap or open use is available but limited.
Non-Members & Guests can not make lap lane reservations.
Children under the age of 16 must be supervised by and adult at all times.
No food allowed in pool area at any time.  Spill-proof beverage containers only.
No Running.  No Diving.  No Smoking.  No Oils, Lotions or Creams.
All users must take a cleansing shower prior to entering pool.
Children over the age of 3 must use their gender's locker rooms or family changing areas on pool deck.
No diaper changing anywhere on pool deck.  Use the family changing area or locker rooms for diaper changing.  Leak proof diapers / rubber shorts required at all times for users needing them.
Clean footwear only in pool area.  Proper etiquette and courtesy are required from all users.
No lifeguard on duty.  In case of emergency dial *110 or *111  from the pool phone to contact Member Services.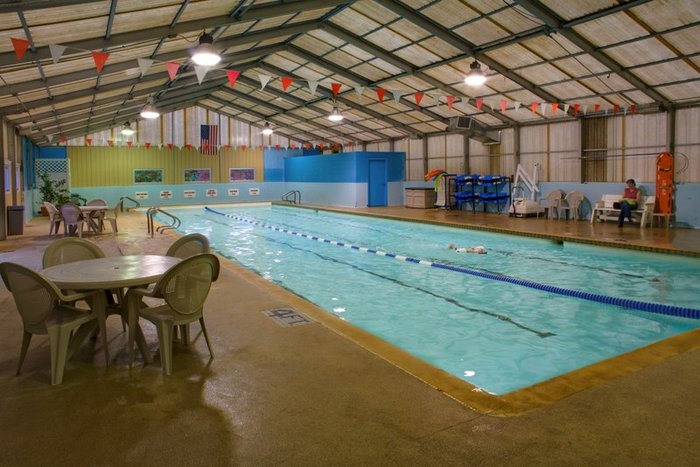 Learning to swim is a life-skill that all should accomplish.
That is the specific reason that Plymouth Fitness partners with the American Red Cross to offer group, semi-private and private swimming lessons for children and adults. Looking for one on one swimming attention? Private Swim at Plymouth Fitness offers individual swimming lessons to help anyone overcome their fear of water, improve their stroke or even train for a triathlon.
The pool at the club is a Junior Olympic pool measuring 25 yards long with a depth of 4 1/2 feet. This pool is kept at 84 degrees and is sanitized using a state-of-the art salt system to produce a more natural, less irritating chlorine. Handicap lift available.
Plymouth Fitness is renowned as the leading provider of quality swimming lessons in the area.  We use the Red Cross "Learn to Swim" Program and all our instructors are well-experienced and certified Water Safety Instructors.  We have helped literally thousands of swimmers become successful.
Group lessons are offered to members and non-members and are open to the public. We start new sessions about every 6-8 weeks on a year-round basis. Classes meet weekly for 30-minutes and we keep a low swimmer to instructor ratio to ensure swimmers truly learn.
ONLINE REGISTRATION                                  Begins Wednesday, December 13th
IN-PERSON or PHONE REGISTRATION              Begins Thursday, December 14th
Group classes WINTER 2024 – START january 2nd!
7-week sessions:                                            $139 Members & $149 Guests
8-week sessions:                                           $159 members & $169 guests
Payment in full required at time of registration.
In a Red Cross swim program there are 5 components that students will work on: Water Adjustment, Buoyancy and Breath Control, Water Entry and Exit, Locomotion and Personal Safety and Rescue.
Here are the skills that are taught at each level.  Click them for class descriptions: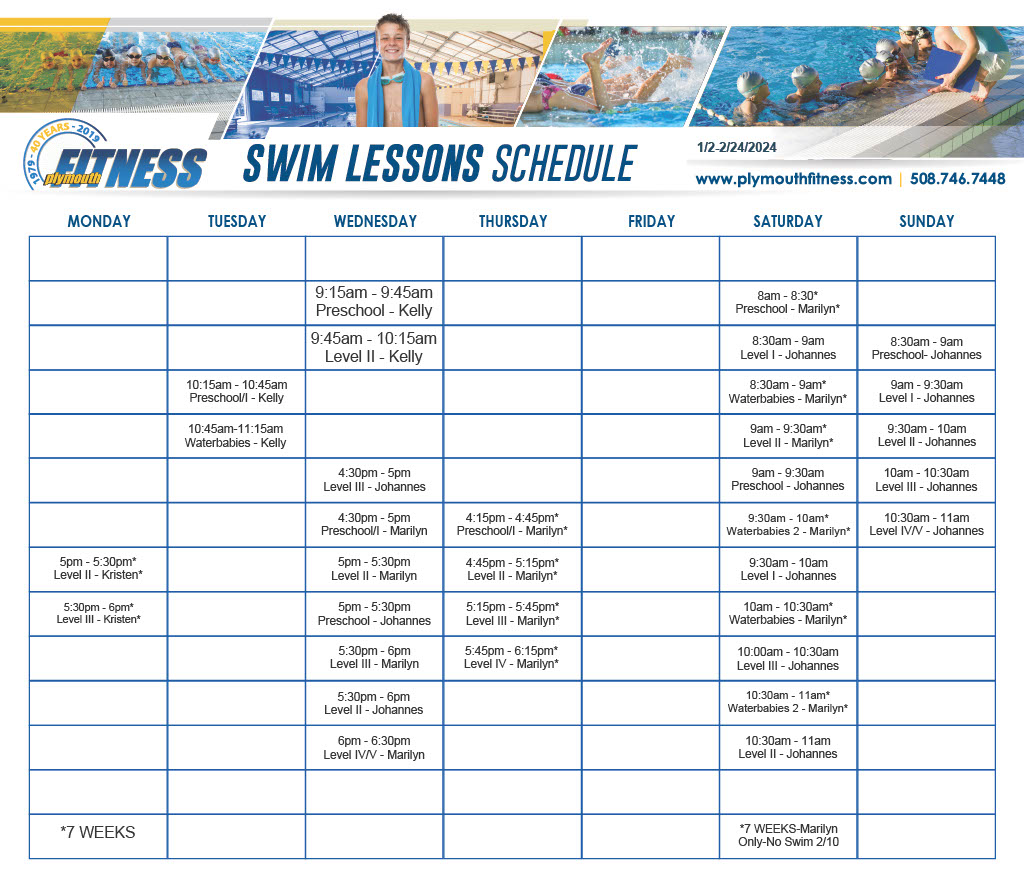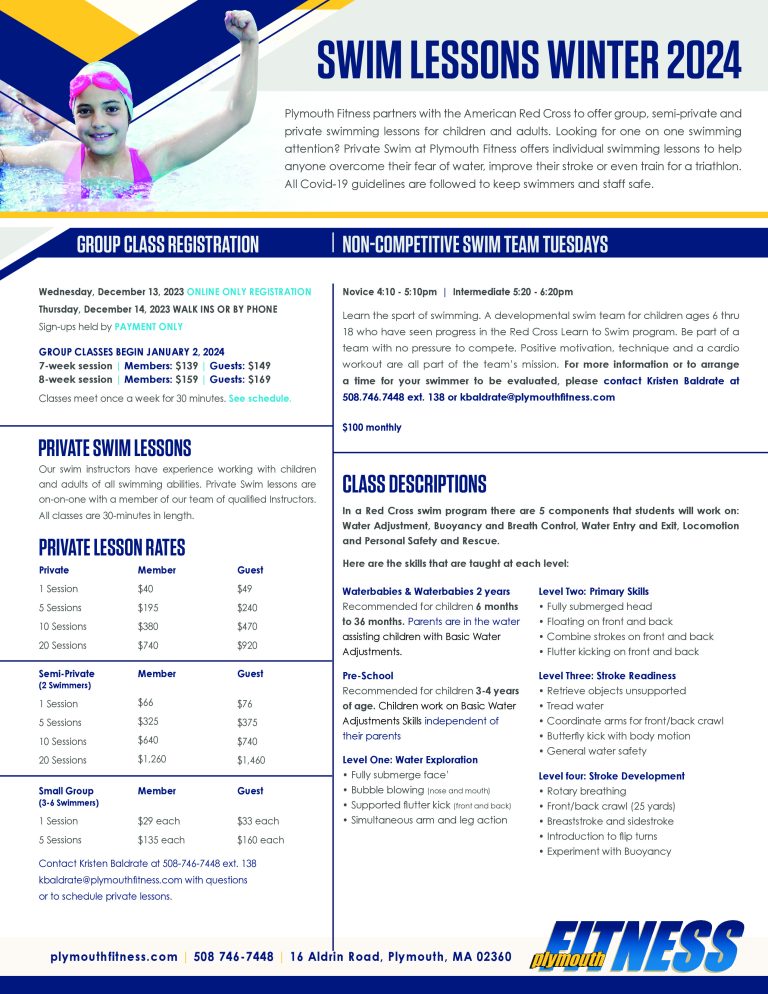 Our swim instructors have experience working with children and adults of all swimming abilities. Private Swim lessons are on-on-one with a member of our team of qualified Instructors. All classes are 30-minutes in length.
For more information or to schedule private lessons, please contact Kristen Baldrate at 508.746.7448 ext. 138 or kbaldrate@plymouthfitness.com
Private swimming Lessons Rates
| PRIVATE | Members | Guests |
| --- | --- | --- |
| 1 Session | $40 | $49 |
| 5 Sessions | $195 | $240 |
| 10 Sessions | $380 | $470 |
| 20 Sessions | $740 | $920 |
| SEMI-PRIVATE (2 Swimmers) | Members | Guests |
| --- | --- | --- |
| 1 Session | $66 | $76 |
| 5 Sessions | $325 | $375 |
| 10 Sessions | $640 | $740 |
| 20 Sessions | $1,260 | $1,460 |
Small Group (3-6 Swimmers)

Members

Members

1 Session

$29 per swimmer

$33 per swimmer

5 Sessions

$135 per swimmer

$160 per swimmer
Non-Competitive swim team Tuesdays
Learn the sport of swimming. A developmental swim team for children ages 6 thru 18 who have seen progress in the Red Cross Learn to Swim program. Be part of a team with no pressure to compete. Positive motivation, technique and a cardio workout are all part of the team's mission.
TUESDAY SCHEDULE:
Novice: 4:10 – 5:10pm | Experienced: 5:50-6:20pm | High School: 6:30-7:30pm
Non-Competitive swim team rates
Members & Guests
$100/month